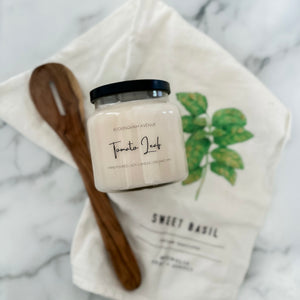 Tomato Leaf Candle
Hand poured soy candle. 
This unique and surprising candle smells exactly like you're rummaging through the tomato leaves in your garden, hunting for that first ripe tomato of the season. This fragrance is earthy and fresh and will bring any garden party or kitchen to life. 

This candle is infused with certified clean candle scents of tomato leaf, lemon peel, thyme, basil and green leaves.
This hand poured soy wax candle contains two eco wicks and is displayed in a glass apothecary style jar. Our candles are designed to compliment any design style with simple labels with black font. Be sure to trim the wicks every time you light them.