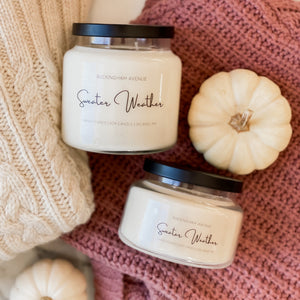 Sweater Weather Candle
Hand poured soy candle.

Our Sweater Weather Candle may be the newest cozy favorite of the season. This pumpkin chai fragrance combines notes of spices and orange peel with the scent of pumpkin at the heart of the candle. A base of vanilla and graham cracker notes add a toasty finish to this warm fragrance.
This candle is infused with certified clean candle scents of pumpkin, orange peel, cinnamon, nutmeg, clove, black tea, vanilla and graham cracker. 
This hand poured soy wax candle contains two eco wicks and is displayed in a glass apothecary style jar. Our candles are designed to compliment any design style with simple labels with black font. Be sure to trim the wicks every time you light them.