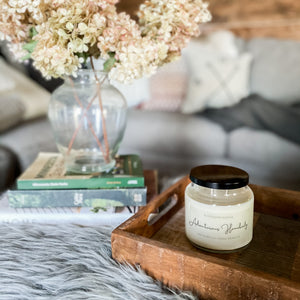 Adventurous Homebody Candle
Hand poured soy candle. 
This fragrance is perfect for the adventurous homebody, someone who craves adventure but also loves the comfort of home. The scents of fir and cypress allow the outdoors to mingle with the cozy fragrance of plum with a warm and smokey base. 
This candle is infused with certified clean candle scents of fir, cypress, plum, saffron, spice, wood, and incense.
This hand poured soy wax candle contains two eco wicks and is displayed in a glass apothecary style jar. Our candles are designed to compliment any design style with simple labels with black font. Be sure to trim the wicks every time you light them.